"Agile Business Platform." Development and validation of a technological platform for the management of projects and resources in SMEs and industrial MICROPYMES based on agile methodologies
Call:
Programa de apoyo a las Agrupaciones Empresariales Innovadoras (AEI) 2018
Duration:
7 months (07/09/2018 – 31/03/2019)
Partners:
Smart City Clúster
Metrica6 S.L.
Atech, Allied Technologies S.L.
Project Budget:
85.782,31€
Grant awarded:
51.467,00 €
Description and Objectives:
During the last decades, companies have evolved their models of organization of personnel and resources for greater efficiency and use of these. In technology companies, mainly, these developments have led to methodologies commonly called "agile" that, in summary, try to create a more dynamic organizational work system, based on continuous results and rethinking instead of longer-term planning which, by nature, is harder to avail. Among these agile methodologies, SCRUM stands out. The main existing barrier to apply them in the Spanish companies is the size of these, where more than 98% are SMEs or micropymes. The objective of AGILE is the creation of a virtual platform where Spanish SMEs can reorganize their work teams based on the SCRUM methodology, creating teams that work based on programmable periodic iterations (generally, between 2 and 4 weeks), establishing objectives for these iterations, assessing the degree of fulfillment of said objectives and how these repetitions gradually bring them closer to the final objective described.
Results
Design and development of a platform for SMEs and microPYMES to apply agile management techniques to the reality of their activity and their projects, integrating the functionalities of the KANBAN and SCRUM philosophies.
The platform incorporates 3 modules with the following characteristics:
Project Management Module through agile methodologies: which includes management of schedules and times to the tasks of a project, calendar, Gantt planner, facilitates the management of the human resources associated with several projects, allows to assign not only salary costs but also material costs, of infrastructure, of consumption, etc. to each task, and with all this, it allows to perfectly measure the profitability of each worker, task and project.
Billing and Warehouse Module, whose advantage is that it allows each time a purchase invoice is introduced, it passes to the available warehouse units, automatically updating the inventory; the same as when a delivery note is generated or an invoice is issued, which is deducted from the warehouse the component units used to create a specific product.
The last module is that of Customer and Supplier Management, which not only allows to have a database of these but also to associate historical purchases or invoices issued / received or even, when combined with the Warehouse Module, to associate supply periods for each component of each supplier, so that purchases can be planned in advance of the materials used for each project or assignment.
The AGILE platform will continue its evolution by adding new functions according to market demand, through requests that companies and organizations communicate to their creators to optimize their administration and management resources, saving considerable costs in the process, and therefore, increasing directly your productivity.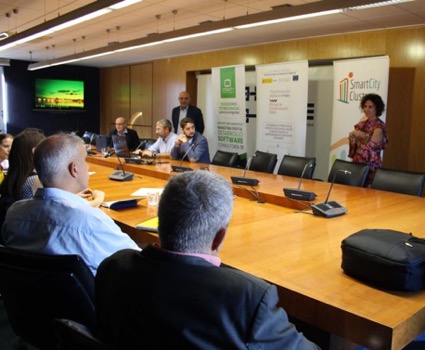 If you are an SME and are looking for support or financing write to us at info@smartcitycluster.org
Know the advantages of being associated
Smart City Cluster enhances collaboration among its partners, favoring research, development and innovation in the different solutions and technologies aimed at the development of smart cities.
Smart City Cluster is an alliance of private companies and institutions that work for the development of smart cities.
Contact
Office: C/ Severo Ochoa 4, 4ª Planta, Parque Tecnológico de Andalucía, 29590 Málaga