5th Edition of the Malaga SME of the Year Award 2021
Bioazul receives the award for "Digitization and Innovation"
On November 4, the Malaga 2021 SME of the Year Award took place, an event organized by the Chamber of Malaga and Banco Santander, with the collaboration of the Chamber of Commerce of Spain, Malaga City Council and the newspaper SUR , with the aim of recognizing the work of small and medium-sized companies as generators of wealth and creators of employment in the performance of their daily work.
In this edition Hispamaroc SL received the Award for the SME of the year. A family business established in 1996, which develops its activity in the logistics sector, with offices in Malaga, Algeciras, Mataró, Tangier, Lisbon and Porto, which has developed an intense supply of fresh products and food during the toughest times of the pandemic.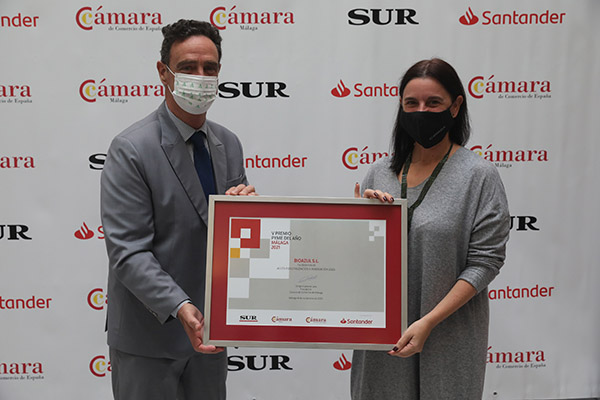 Likewise, the jury awarded five prizes to the other finalist SMEs where we received the award for our "Digitization and Innovation". The rest of the awarded SMEs were Distribuidora de Sistemas de Cierre, S.L. with the award for "Internationalization", Euroconsultoría Formación Empresa, S.L. with the award for "Training and Employment", Acristalia, award for the "Socially Responsible Company" and, Solbyte Servicios Informáticos, S.L., with a Special Mention for "Reinvention Covid" to the pandemic situation experienced in 2020.
The jury highlighted as merits, the increase in activity and improvement of the company's results; job creation, paying special attention to its quality; The internationalization of the company; the introduction of innovations and digitization, and the adoption of training measures for workers, as main merits to grant these awards.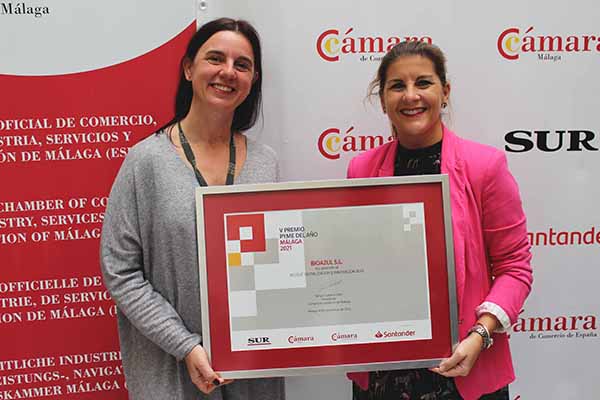 The Malaga SME of the Year Award was convened with the aim of underlining the role of Spanish SMEs in generating general well-being for Spanish society as a whole. This project responds to the interest of the Chamber of Commerce of Malaga and Banco Santander to help the progress of companies and families and aims to recognize and give visibility to the daily effort of entrepreneurs and their contribution to economic development and job creation. The initiative also deepens the collaboration between Banco Santander, the network of Chambers of Commerce and the local media.
The Malaga SME of the Year 2021 Award was open to small and medium-sized companies, with less than 250 employees, with an annual turnover of less than 50 million euros in 2020 and with headquarters in the province of Malaga.
Know the advantages of being associated
Smart City Cluster enhances collaboration among its partners, favoring research, development and innovation in the different solutions and technologies aimed at the development of smart cities.